Image

Employee Playlist of the Month: Alex Siordian
Keep it groovy with August's Employee Playlist of the Month. This month, the spotlight is on Alex Siordian, Senior Digital Director of iHeartMedia's Digital Audio Group- Digital Content Hub. Allow Alex's curated playlist of music to raise your vibrations and introduce you to some fantastic songs. From the psychedelic grooves of Tame Impala and electropop of Dua Lipa, to the upbeat flow of Anderson .Paak and classic funk of Earth, Wind & Fire, this playlist will have you feeling like a sunny day. Mellow out to these tunes and learn more about Alex below.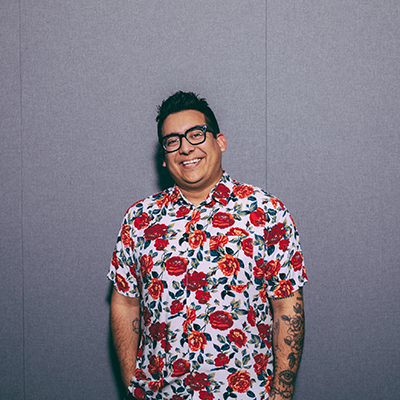 How did you choose the songs on your playlist?
If music can teach us anything, it's that we don't always need words to communicate. Music is an expression of who we are & how we express ourselves to the people around us. This playlist is a tribute to that idea. It's a mixture of the music I grew up listening to alongside the music I love today, which ironically sound nearly identical. It's greatly inspired by my time growing up on the west coast, which means a lot of funk, a lot of soul, and of course, a lot of disco. It was made to be played very loud, played with friends & played under the light of a disco ball. This playlist is really for my parents, who taught me how to speak through music and for my friends who taught me how to dance to it. 
When do you listen to this playlist most?
I usually listen to this playlist when I need a reminder of where I came from to figure out where I'm going. This playlist always puts me in the best mood, and it consistently turns my day around when I need it most. Simply put, the songs on this playlist make me really happy. 
Who is your dream artist to meet, and why?
Easy answer, Kevin Parker of Tame Impala. I'd probably never be the same. If he's reading this… I love you, Kevin. 
Can you share your most memorable music moment experience?
I'm extremely lucky to have had so many amazing music moment experiences while working at iHeartRadio for the past nine years. I've had the unique opportunity to meet many of the biggest artists in the world & travel the country to watch these artists perform live. However, my MOST memorable music moment is a tie between seeing Elton John's final performance at The Forum in Los Angeles & seeing Tame Impala at Coachella in 2019… both with my best friend.
What is the best part about working at iHeartRadio?
The people. I get to work with the greatest digital minds at our Digital Content Hub in Nashville, TN. They make it fun to come to work, they each bring great perspective to any challenge that comes our way & each of them inspires me to give 110% every day. I'm fortunate to work with the most incredible digital team in the business… also, the snacks.
A fun fact about myself is…
I have 34 tattoos & I'm just getting started.