Image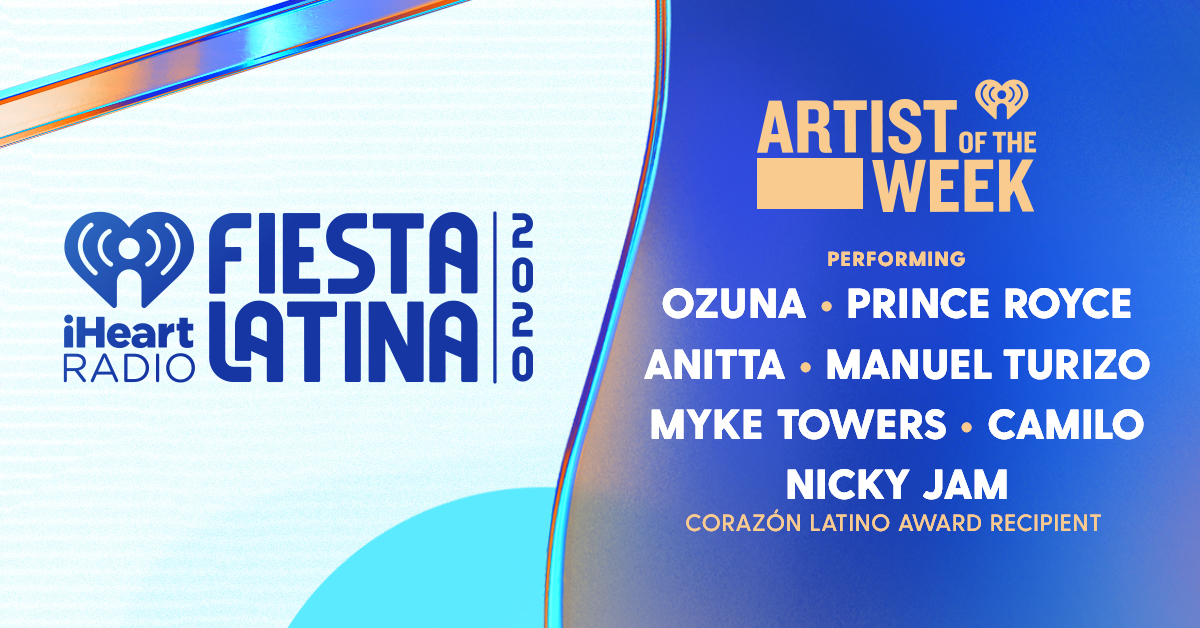 Artist of the Week: iHeartRadio's Fiesta Latina 2020
Celebrate the best of Latin music and culture all month-long during Hispanic Heritage Month with iHeartRadio's seventh annual Fiesta Latina!
Hosted from a Miami rooftop by iHeartRadio's Enrique Santos, this year's event featured an unforgettable night of heart-pumping performances from Ozuna, Prince Royce, Anitta, Manuel Turizo, Myke Towers, Camilo and Nicky Jam.
Going virtual this year, iHeartRadio Fiesta Latina 2020 featured intimate sets and must-see moments from incredible locales like city rooftops, artists' living rooms and more.
Case in point, Nicky Jam's epic performance of his biggest hits "El Perdón," "X" and "Hasta Amanecer" as he accepted this year's iHeartRadio Corazón Latino Award Presented by Ally.
The singer was recognized for his relief efforts following Hurricane Maria in Puerto Rico, and also, his charitable work with less fortunate families in Colombia—among other ways he's given back to the Hispanic community. He was also joined by Prince Royce as the pair spoke to Enrique Santos on the importance of being heard and voting in the upcoming election.
The highlight-worthy moments don't end there, though!
Myke Towers took over Miami public transportation and airport for a high-energy performance of his songs like "Diosa." While Manuel Turizo debuted a brand new song, "La Nota," and Camilo gave an intimate performance from his home of "Favorito."
Anitta brought all the dance moves on her own stage to perform "Me Gusta"—as Ozuna closed out the show with a dance-inducing set of his own.
Relive all of the incredible show in its entirety as a one-hour special through October 15 on Hulu, or catch highlights of your favorite performer now on iHeartRadio's YouTube page!