Employee Playlist of the Month: Jordan Stone
Need a pick-me-up this winter? Look no further than this month's  playlist, created by iHeartRadio's Data Analyst, Jordan Stone. With hits from artists like Disclosure, Tame Impala, Diplo and more, this playlist definitely serves as a burst of energy that will pair perfectly with your Monday morning coffee. Headbanging is allowed – we won't judge. Check it out below!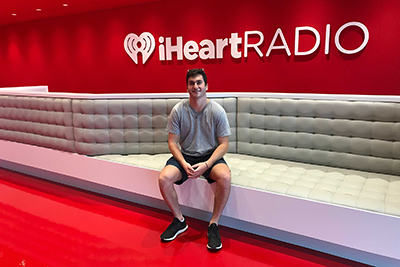 How did you choose the songs on your playlist?
The songs I chose are a combination of songs from artists I've loved for years (Disclosure, Odesza, Tame Impala) and new finds from 2020, when I had a lot of free time for music discovery while I was working from home. 
When do you listen to this playlist most?
I listen to this playlist when I'm in the zone while working, or while doing any activity where I need a high energy pick-me-up. I think it's really versatile, so it works in most scenarios!
Who is your dream artist to meet and why?
Probably Flume, the Australian DJ and Producer. Not only is he a musical genius, but I've been a fan of his since he first started releasing music and feel like I've really grown up with him.  Above all, he seems like a cool, down-to-earth guy so I think we'd get along well.
Can you share your most memorable music moment experience?
I got to see the Swedish House Mafia live in Stockholm, Sweden for the start of their reunion tour in 2019, after their 6-year hiatus. Seeing this group live had always been on my bucket list since they first broke out in 2012, and seeing them nearly 7 years later in their hometown was a really cool full-circle moment for me.
What is the best part about working at iHeartRadio?
Definitely the people. I'm so thankful for all the smart, kind, and generous people I work with on a daily basis that have helped me grow so much personally and professionally during my first year at iHeartRadio.
A fun fact about myself is…
I'm a dual-citizen! (American and Canadian)
iHeartRadio Employee Playlist of the Month!​​​​​​