iHeartRadio Employee Playlist of the Month: Najah Mustafa
For our next installment of the the iHeartRadio Employee Playlist of the Month series, we'd like to introduce you to Najah Mustafa, Associate Web Product Manager for iHeartRadio.
Take a listen to her playlist here or check out the full list below!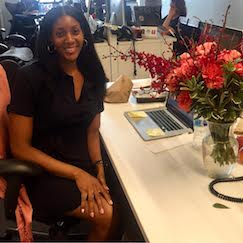 How come you chose the songs on your playlist?
I choose these songs because they're feel good songs and they give me an upbeat vibe. I enjoy many genres of music so this list includes timeless songs that I love - I've included many tracks from my childhood, which consist of Hip Hop, Pop & R&B.
When do you listen to this playlist most?
I listen to this playlist while I'm commuting or doing chores around the house.
Who is your dream artist to meet and why?
Having a career in the digital media industry has afforded me many opportunities to meet some of my dream artists.  I've been very fortunate to meet brilliant artist like, Prince (RIP), Beyonce and Mary J. Blige.  I'd love to meet Adele because she's an amazing artist.  Her voice is so beautiful, and when I listen to her I can feel the power behind her voice since she sings from her heart.  I haven't been to one of her concerts yet but it's definitely on my list.
Can you share your most memorable music moment?
I think music in general helps me create the type of day I want to have and thus has helped me shape my life.  Music can have such a positive influence on society, and it can relax you or excite you in an instant. Music helps me wake up, feel good, calm down, exercise, dream, and it's there for me when I need inspiration.
What is the best part about working at iHeartRadio?
The people I work with at iHeartRadio are wonderful.  My coworkers are all talented, down to earth and fun.  We're also spoiled here at iHeartRadio because on any given day we might launch new features to iHeartRadio's web app, watch a live performance by a sensational artist, enjoy delicious snacks and food from local restaurants and run into recording artists in the office – all in the same day!
A fun fact about myself is…
I can re-enact any scene from Eddie Murphy's "Coming to America" and I cried when I watched "Inside Out." :)
1. Marvin Gaye – Got to Give it Up
2. Stevie Wonder - AS
3. Prince - Adore
4. Jodeci – Stay
5. Miguel – Sure Thing
6. Jill Scott – He Loves Me
7. Mary J. Blige – Everything
9. Bob Marley – Is This Love
8. KRS ONE -  Step Into a World
10. Notorious BIG – I Got A Story To Tell
11. Beyonce – Love On Top
12. Nas Feat. Lauryn Hill – If I Ruled the World
13. Ice Cube – It Was a Good Day
14. Adele – Water Under the Bridge
15. Neyo – Champagne Life
16. Khalid - Location
17. John Legend – So High
18. Florence + The Machine – Dog Days Are Over
19. Justin Timberlake - Mirrors
20. Bruno Mars – 24K Magic
21. Solange - Cranes in the Sky
22. Tamia feat. Fabolous – Into You
23. P!nk - Raise Your Glass
24. Jay-Z  & Alicia Keys – Empire State of Mind
25. Earth Wind & Fire - That's the Way of the World
​​​