Image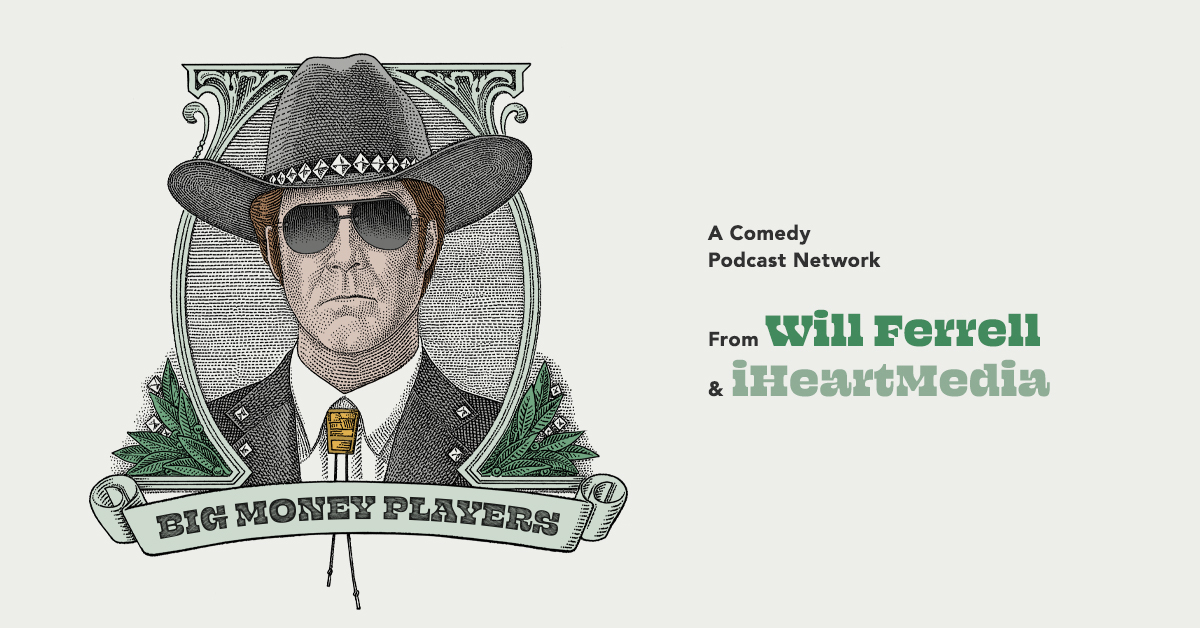 iHeartMedia and Will Ferrell's Upcoming Podcast Slate for "Big Money Players Network" Has Something for Everyone!
If you're in the market for a new podcast, look no further. This week on the blog, we're highlighting the first six shows set to join Will Ferrell and iHeartMedia's Big Money Players Network of comedy podcasts!
If you're looking to get your weekly pop culture fix, check out "Las Culturistas with Matt Rogers and Bowen Yang." Hosted by culture consultants Matt Rogers and Bowen Yang, this weekly podcast dives deep into today's hottest pop culture moments. Start streaming the podcast today to learn more about the formative experiences that paved the way for the duo to become "Las Culturistas."
Feeling the love? You won't be able to get enough of "True Romance with Carolina Barlow and Devin Leary." The show explores the many trials and tribulations of love. From how to make someone fall in love with you while you're playing it cool to the trials and tribulations of famous love stories, hosts Carolina Barlow and Devin Leary are leaving no stone unturned. Head over to iHeartRadio to start listening to the show today!
If you're stuck in a conspiracy theory rabbit hole, you'll love "My Momma Told Me with Langston Kerman." Hosted by comedian Langston Kerman, this show dissects the most exciting, groundbreaking, and sometimes problematic Black conspiracy theories. Kerman and his guests will discuss silly conspiracies, scary conspiracies and conspiracies they learned from that uncle who used to wear jeans when swimming in the public pool. Mark your calendars for August for this one!
For fans of the literal, look no further than "Bald Talk." On the podcast, hosts and comedians Brian Huskey and Charlie Sanders interview bald performers, bald celebrities and anyone bald about being bald. The show brings to the forefront honest and hilarious conversations about vulnerability, vanity, insecurity and self-image. Be sure to check out "Bald Talk" when it launches in September!
Wellness is a trillion-dollar industry full of scams and snake oil salesmen, and yet, comedians and best friends Kate Berlant and Jacqueline Novak simply can't get enough. Meditating naked in salt caves and shopping for overpriced Ghee is the glue that holds their friendship together, and now for the first time, they're doing it in public. Join them on their obsessive quest through the highs and the lows of the healing world where they will test products and practices, consult healers and experts, and ask the ultimate question: is it truly wellness they're after...or just the thrill of the chase? "POOG with Kate Berlant and Jacqueline Novak" will debut this fall. 
How are you supposed to live without this next podcast? Grammy-winning singer Michael Bolton reunites with Emmy-winning writers Scott Aukerman and Akiva Schaffer to deliver more croons and jokes in "Michael Bolton's Big Sexy Podcast." Spoofing the modern podcast talk show, this scripted podcast features the iconic pop-rock ballader as a self-obsessed host doling out outlandish questions to unsuspecting celebrity guests. Keep your ears to the ground for this one to hit the airwaves later this fall! 
Tune into iHeartRadio today to listen to podcasts in the Big Money Players Network!